Equipment Rentals
Float Tube $20.00 per day or $30.00 for a two day package
Caddis Fins $5.00 per day or $8.00 for a two day package
Simms Gore-Tex waders $25.00 per day or $40.00 for a two day package
Wading Boots $6.00 per day or $9.00 for two days
Fly Rod Outfit $20.00 per day or $30.00 for a two day package

Gift Certificates
Gift Certificates are available for classes, seminars, guide trips and merchandise for that favorite angler.

Guided Wade Trip Rates
For your convenience all flies and equipment, rod outfits, waders, boots etc. are included at no extra charge on any guided trip, class, or seminar.
Full day trips include lunch.
Half day trips include beverages only.
Full Day: $375.00 for one person per day, $100.00 each additional person per day. Price includes lunch.
Half Day: One or two people $250.00, three people $325.00, four people $400.00 person per half day. Price includes beverages. Lunch not included.

Drifting the Lower Owens River


Experience the Solitude
Have you ever wondered what it was like floating the Lower Owens River and fishing where no one else can fish? Well stop wondering. Most of the Lower Owens River is inaccessible from shore due to the thick foliage and drifting is the only way to reach these secluded areas that hold Rainbows and wild Browns. Make your next fishing adventure to the Eastern Sierra a unique one, book a drift trip down the Lower Owens River with Brocks Flyfishing Guide Service.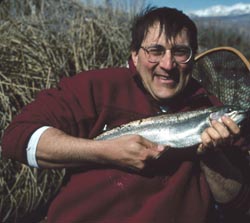 Drift Boat Rates
Full Day: $375.00 for 1 or 2 people and $475.00 for 3 people. Price includes lunch, flies and all equipment.
Half Day: $250.00 for 1 or 2 people
Summer Evening Special
June through August 4:30 PM to 8 PM
$250 for 1-2 people.

RESERVATIONS AND DEPOSITS POLICY
Reservations should be made as soon as possible for seminars, guide trips, and at least one week in advance for the introductory class. A 50% deposit is required on all classes, seminars, and guide trips at the time the reservation is made.
CANCELLATION POLICY
All deposits and payments are refundable up to but not including seven days prior to the trip date. Cancellation with seven days or less notice the deposit or payment will be forfeited.
ALL GUIDES ARE LICENSED, BONDED AND CERTIFIED FEDERATION OF FLY FISHER CASTING INSTRUCTORS.
All prices are subject to change without notice.
If you are interested please contact us.